At Meraki Go, we've shared a multitude of reasons why Guest WiFi is important for businesses today. It's become an expectation from your customers. We discuss why it's become essential along with some of the benefits to your business at the end of this article.
No matter what your unique needs are, Meraki Go empowers you to set up multiple networks, including a Guest WiFi. We even give you the option to create a customized landing page.
Create a guest network
There are two ways to set up a guest network. You can either create a new network or you can enable an existing network to be your Guest WiFi.
Create a new network
To create a new network, select the Networks tab at the bottom of the screen. Then click the + sign in the upper right corner.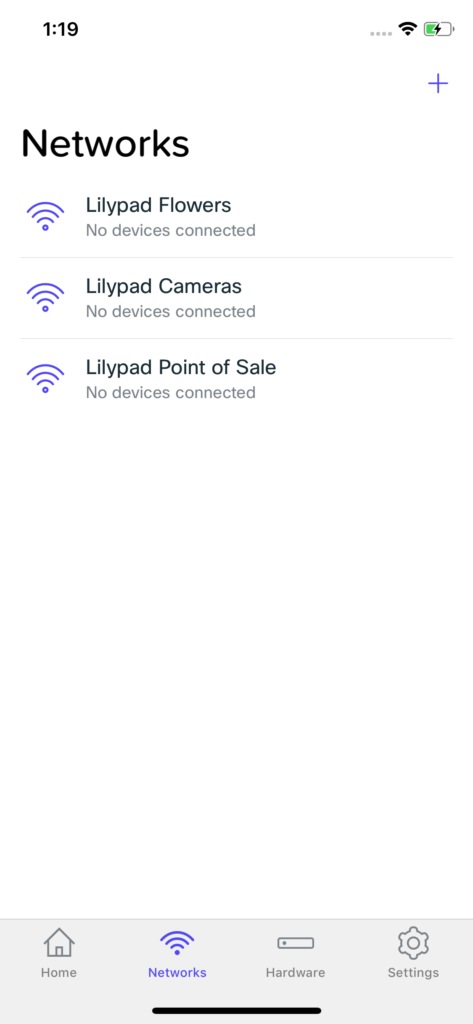 Enter the name you've chosen for the network and then set a password. You can create a network without a password, but you can – and should – establish a password for your Guest WiFi along with every other one of your networks.

Then check the Guest network box and then click Save. The newly created network is now set up for your Guest WiFi.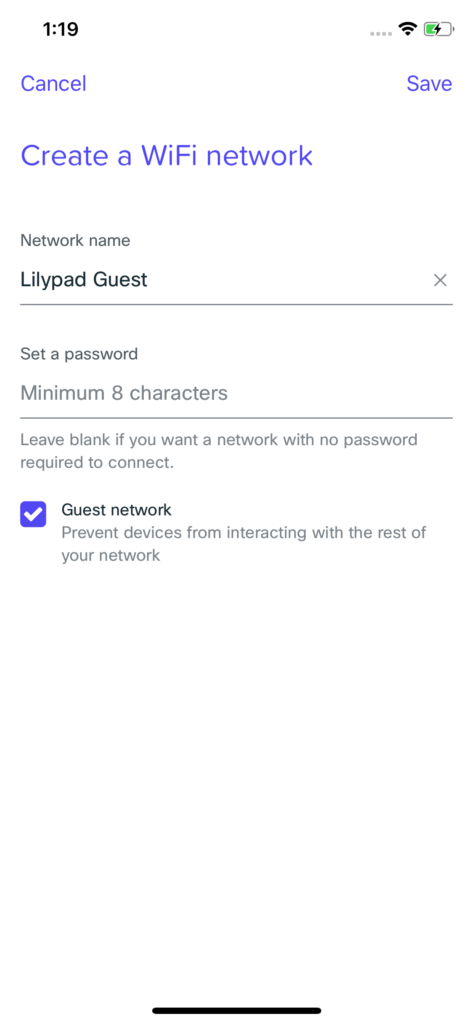 Change an existing network into Guest WiFi

You can easily update any existing network to be a guest network as well. To begin, select the Networks tab at the bottom of the screen. Then select the network you want to update.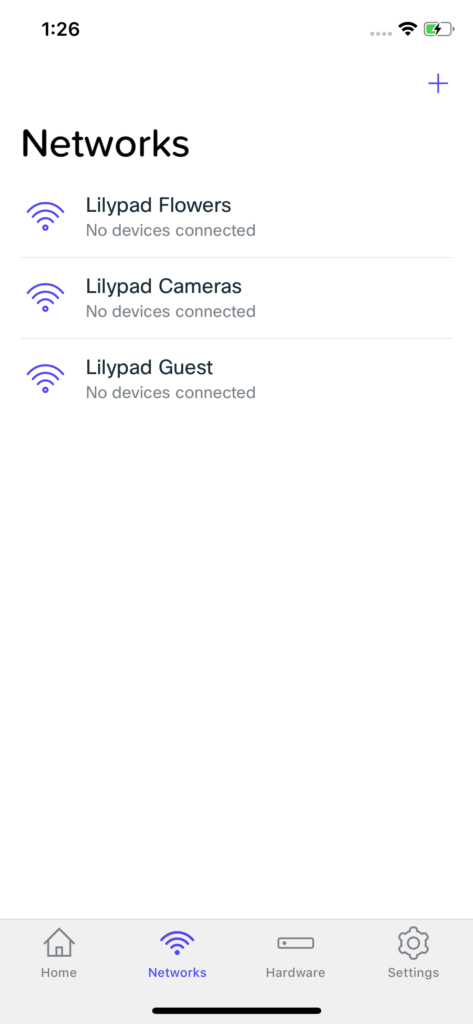 Next select Settings, scroll down to Guest network under Status, and slide the button on. You can see that you have the option to turn any guest network on/off as well as making it discoverable.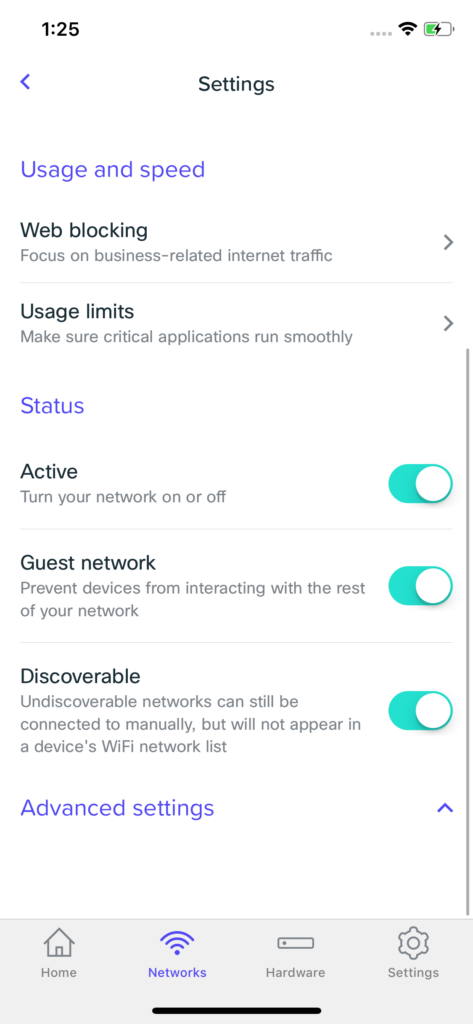 For more on creating a guest network, visit our Documentation.
Create a landing page
Meraki Go also gives you the ability to create a landing page for your Guest WiFi. This is something users will see before they access the network and you can customize. It can be anything from crafting a simple message of welcome to driving them to your website or favorite social media platform (like Instagram) in order to build engagement.
To start, go to your guest network's page in the app and then click Landing page under Access control.

Option 1: None (direct access)
When "None" is selected, users will not be prompted with a landing page when connecting to the network. Instead they will immediately have access to your Guest WiFi.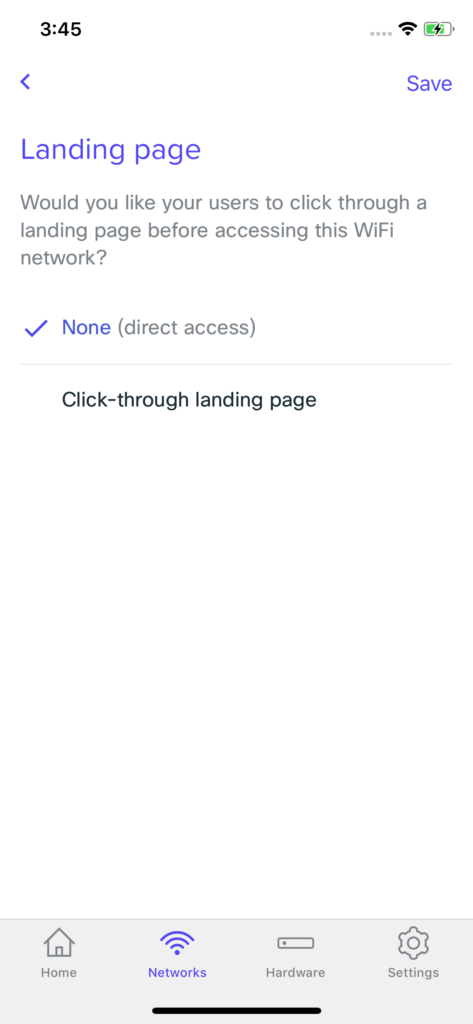 Option 2: Click-through landing page

When Click-through landing page is selected, users of your Guest WiFi will be prompted with a pop-up window and a button to click in order to access your network.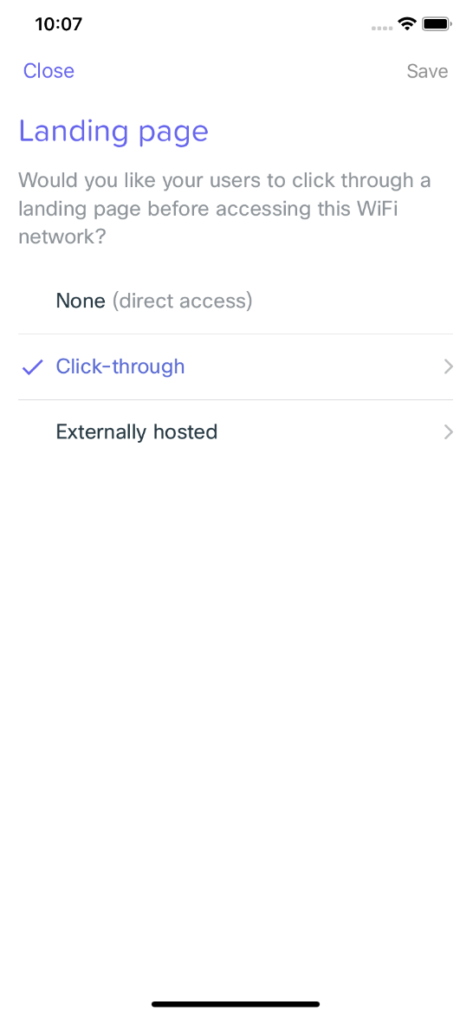 You can customize this part of the sign-in process with an image such as your business' logo along with a welcome message.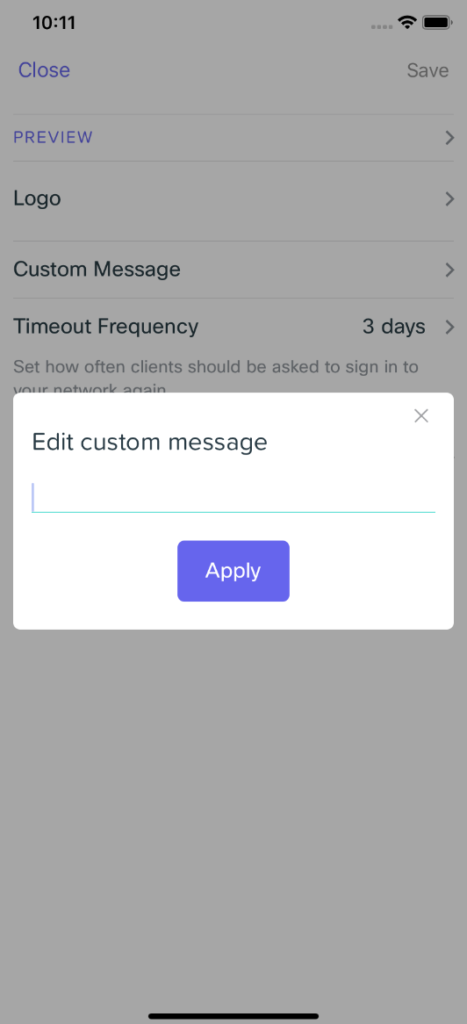 You can also select a website or social media platform that users will be redirected to after logging into your guest network.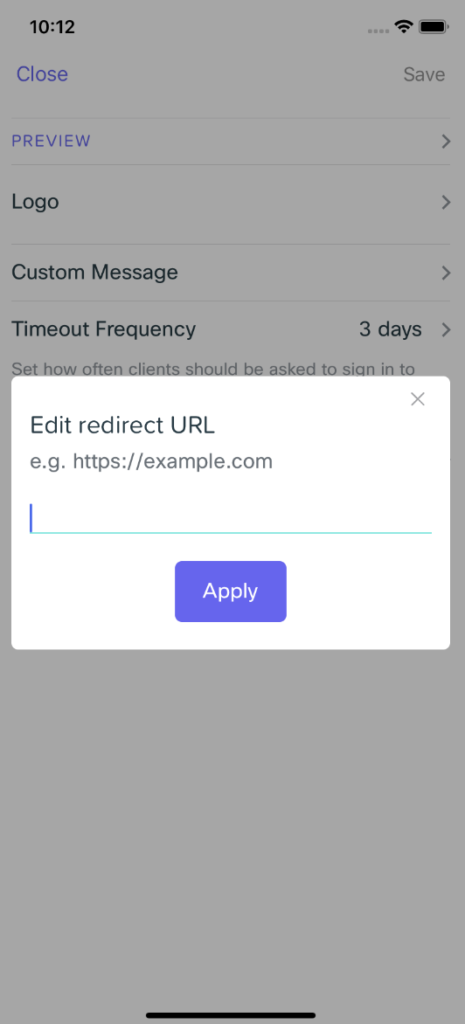 Option 3: Externally hosted
Externally hosted landing pages allow you to utilize something like a website home page or social media platform (like Instagram) to present to your network users. This helps build a relationship with your customers and can even encourage user-generated content for brand engagement.
For this option, simply select Externally hosted among the landing pages. Then enter the URL of the page you want your users to see and click Save.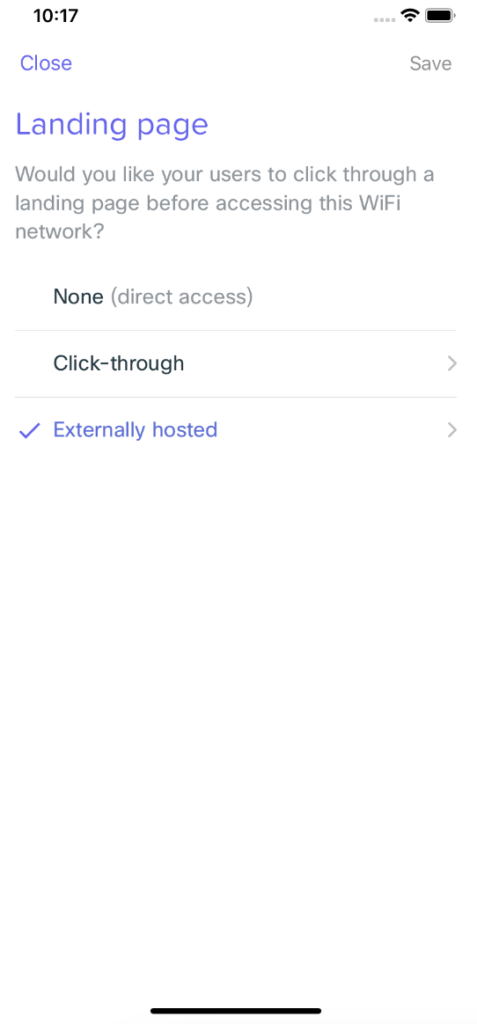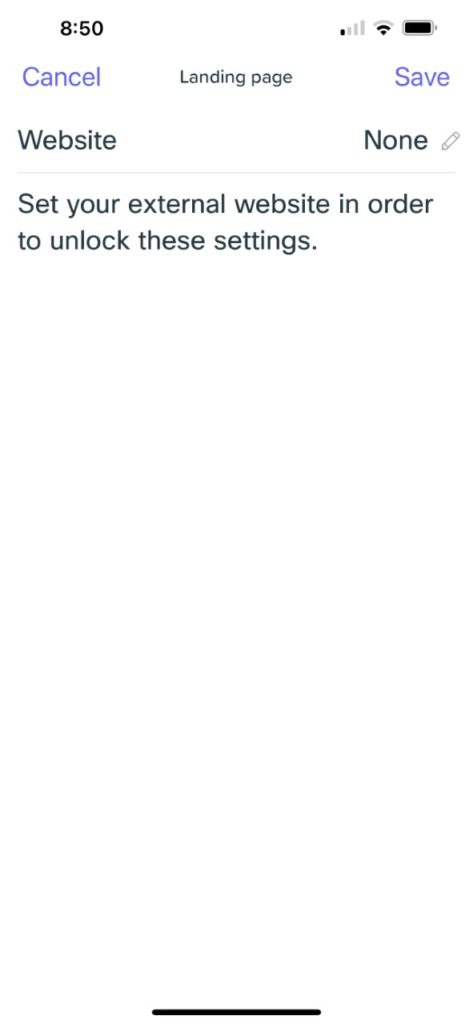 For more on setting up landing pages on Meraki Go, visit our Documentation.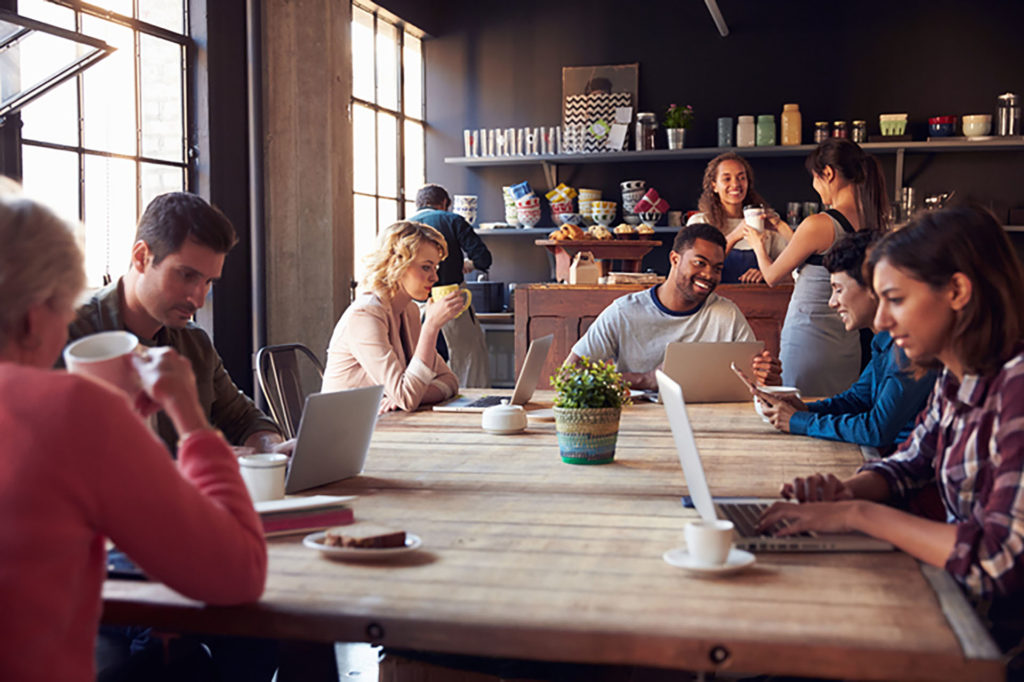 Importance of Guest WiFi
Of course coffee shops have become virtually synonymous with free Guest WiFi, but it's now also offered in bars and restaurants, retail stores, hotels, and many other businesses.
In fact, a Devicescape survey of 400 small consumer-facing businesses across the U.S. showed that:
62% of owners said customers stayed longer at their businesses since they started offering free Guest WiFi
50% said customers spent more money since they started offering Guest WiFi
77% of owners rated Guest WiFi as being "important" or "very important" to their small business
We recently looked at vacation rentals where WiFi has become the #2 priority when searching for a place to stay. In addition, 95% of guests describe reliable and secure connectivity as "vital" to their experience.
In addition to the customer experience, being able to segment your business into different networks is deeply important to cybersecurity. In fact, it's mandatory when your business wants to become PCI compliant. All of your business operations – such as point-of sale systems – must be kept on their own networks along with any confidential business information. And then customers should log into their own guest network. That way, for example, if a criminal accesses your Guest WiFi, they won't be able to get anywhere near your business.
And with the shift to a hybrid workforce, many households now have a need to segment their networks there as well. Parents may need their own secure network(s) either for a business based out of the home or to VPN into a company to work remotely. In addition, children and teenagers should ideally have their own network for school, gaming, and other activities along with a Guest WiFi for their friends when they visit. All of this keeps your family secure as well as optimizing your WiFi at home.
These are many of the reasons you need business-grade WiFi. Consumer-grade equipment, like the kind your cable company may provide to you, does not allow you to segment different networks. With Meraki Go, you are in control to create and manage multiple networks, including Guest WiFi.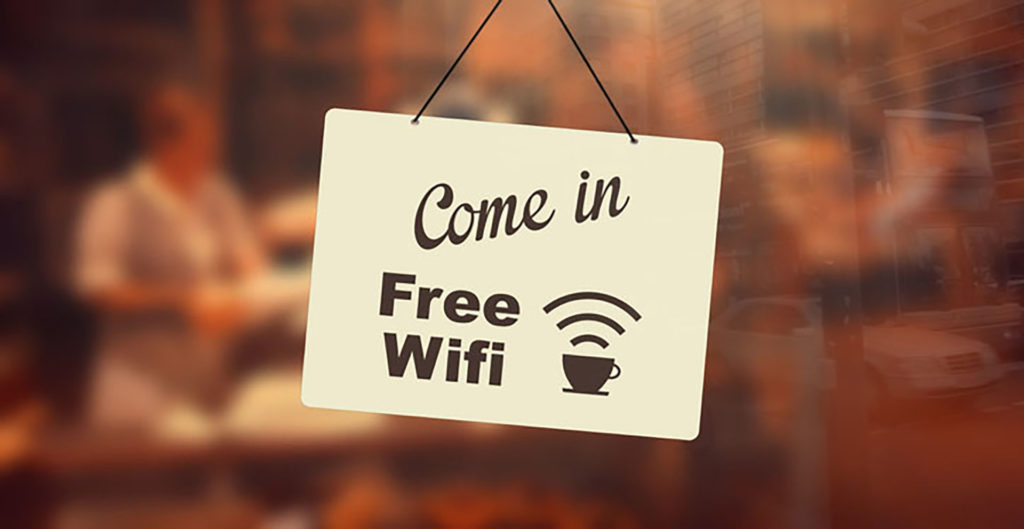 ---