The pandemic impacted every industry, but hospitality has really evolved in the past few years. One way is simply where people choose to stay. Vacation rentals were already popular before 2020, but they exploded once people became reluctant to stay in big hotels.
That popularity has endured for companies like Airbnb, VRBO, and HomeToGo. Airbnb's revenue, for example, grew 40% in 2022. According to Statista, revenue from all vacation rentals should exceed $19 billion in 2023.
"After energy and water, the wireless internet network has become a crucial investment."

SOURCE: John D'Annunzio, GM for Samsung Wireless Enterprise
It's become a great small business for many people. There are approximately 2 million vacation rentals today and the number of guests is projected to be 63 million by 2027. They're so successful that travel sites like Trip Advisor and Expedia have expanded to offer vacation rental options as well. 

If you rent out your home, connectivity has never been more important. In fact, "WiFi has essentially become a third utility," declared John D'Annunzio, GM for Samsung Wireless Enterprise in North America. "After energy and water, the wireless internet network has become a crucial investment."
Lodgify, a service supporting the vacation rental industry, agrees about the importance of WiFi. "In this day and age, technology and digital accessibility are considered vacation home essentials. WiFi is necessary for any modern vacation rental." Today the lack of WiFi will most certainly prevent people from staying with you. Further, if you don't have a fast wireless internet connection, you could experience an avalanche of guest complaints and lose future bookings.

There's clearly a new bare minimum, so we explore why WiFi has become so important to vacation rentals and how business-grade WiFi addresses your unique needs as a host.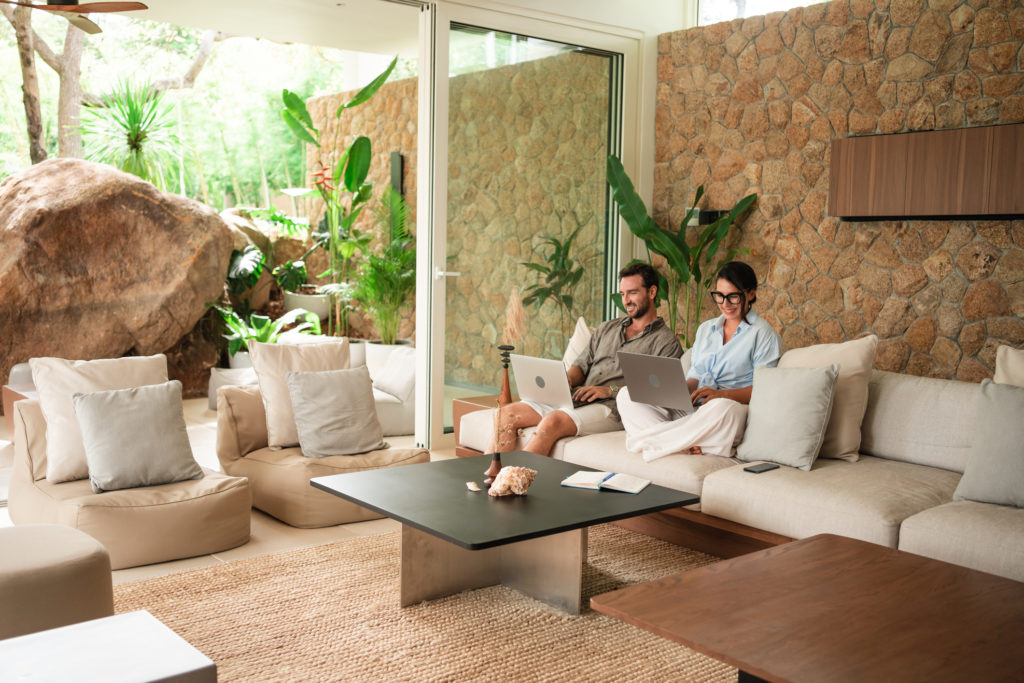 Your guests
It's not only where people stay that's changed – it's who is traveling and why. Leisure and business now intersect due to remote and hybrid work. According to LinkedIn, 36 million Americans will be working remotely in 2025, which is a 417% increase since 2020.
WiFi is the #2 search for vacation rentals

SOURCE: Airbnb
In addition, Airbnb shows that guests are searching for listings that support remote work and temporary relocations. The company even has a page on its site that educates hosts on "how to make your space comfortable for remote workers." They assert that "amenities like fast WiFi and a dedicated workspace can attract guests." In fact, "dedicated workspace" is now a search filter along with "WiFi."
People can now work from anywhere. In addition, many simply extend their vacations and go "back to work" even while they're still away. So guests have evolved in their technology and connectivity needs.
Your guests needs
Even though there are new demands due to remote and hybrid work, everyone expects fast and reliable connectivity today. Per Expedia, people travel with more devices than ever before and use them in a multitude of ways. Guests assume they'll be able to use them without any issues during their stay.
Fast free WiFi is an essential whether someone is traveling for business or pleasure. Among the top searches for vacation rentals, WiFi is #2 according to both Airbnb and Lodgify. Even before the pandemic hit, a Hotel Investment Services (HIS) survey showed that a staggering 98.5% of guests travel with smartphones. The number is even closer to 100% today.

They're also connecting with multiple devices and using WiFi for multiple reasons. Expedia tells its hosts, "Whether you cater to leisure travelers who are uploading photos, FaceTiming with family, and streaming videos, or to business travelers sending emails and making video callsYour – it's critical to have perfectly working WiFi at all times in all locations."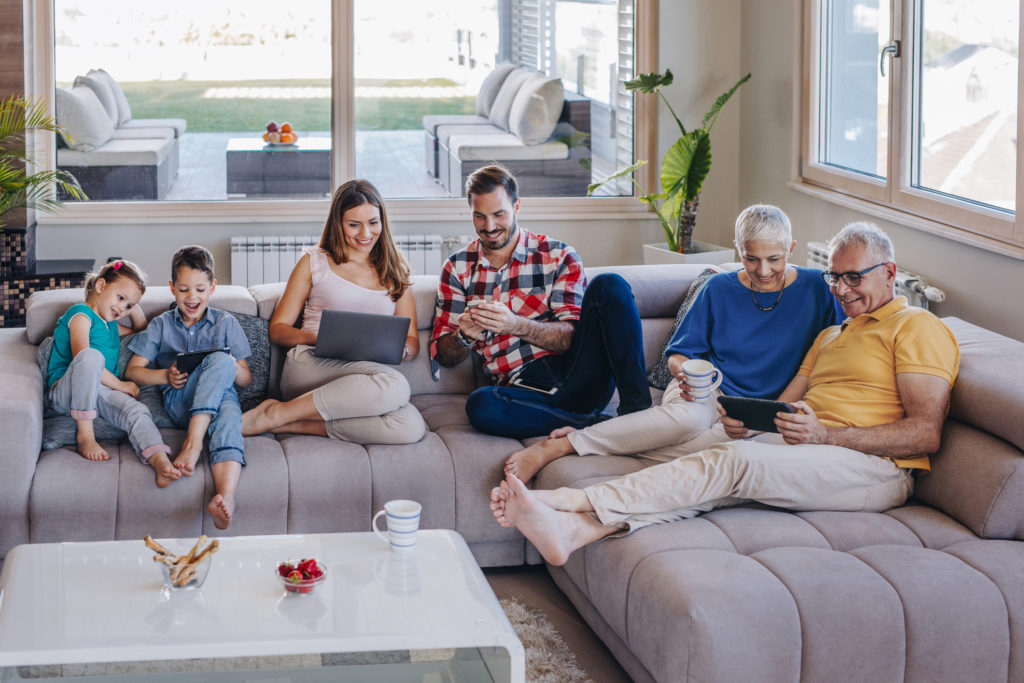 Your needs as a host
WiFi connectivity is considered "vital" by 95% of guests

SOURCE: Hotel Investment Services survey
Connectivity is crucial to vacation rentals. In fact, it's described as "vital" by 95% of guests who responded to the HIS survey. Yet 82% of respondents also said poor signal coverage was "often" an issue. In fact, many sources cite bad WiFi as one of the top guest complaints. That experience can and will severely damage the success of your small business. Poor connectivity negatively impacts both satisfaction scores and loyalty, which then also stops other guests from booking with you.

Not all WiFi is created equal. One of the biggest mistakes small businesses make is using home devices for your guests and customers. If you're using the equipment your cable company gave you for WiFi, you're doing it wrong. Just remember, vacation rentals may be in your home, but you are running a business. And as a host, you need business-grade WiFi. Your network needs are very different than the average consumer.
Difference of business-grade WiFi
Fast and reliable WiFi are expected, yes. But even more is needed when you're the host of a vacation rental. Your needs go beyond any consumer-grade devices. To better understand business-grade WiFi, take a look at some of Meraki Go's features:
Security
Meraki Go gives you built-in business-grade security powered by Cisco that helps prevent ever-evolving cyber threats. You can even get enterprise-grade security with the Router Firewall Plus. All of our devices intuitively block websites to ensure appropriate network use, but you also have the ability to manually block any websites you don't want your guests to access. And of course all Meraki Go devices get automatic firmware and security updates to save time and give you peace of mind.
Guest WiFi (with a landing page)
It's important to have separate networks for you and your customers. For one, it allows for even more security. It also gives you customization. For your vacation rental, this includes providing Guest WiFi with its own login. You can even create a QR code through the Meraki Go app that your guests can simply scan to log in.
Meraki Go also gives you the option of creating a landing page for your Guest WiFi . You can upload a logo or image for your business along with a welcome message. Or your landing page could be your website or social media account (like Instagram) to really build a relationship with your guests. This opens up the possibility of user-generated content, which can give your business additional reach.
One additional benefit of having a guest network is that you can connect the rental's smart devices to it, which then allows your guests to control them through WiFi. This includes everything from lights and locks to speakers. In addition, this also empowers them to control video streaming services like AppleTV and Roku with their smartphones and tablets.
Capacity and bandwidth
The average household now has an average of 25 wireless devices in it. With guests bringing their own along with heightened activity while they're away from home, it's your responsibility as a vacation rental host to be able to accommodate that demand. Though WiFi 6 is revered for its increased speed, its underappreciated gift is capacity. Meraki Go's WiFi 6 access points – both indoor and outdoor – have twice the capacity and allow for up to 100 devices to be connected at once.
Guest insights
One of the special features of Meraki Go is that you can get insights into those who log into your WiFi. Brick-and-mortar businesses will use these insights to see trends about peak traffic and how often customers come back in order to improve staffing and develop loyalty programs. As the host of a vacation rental, it gives you transparency into the devices that are being used, websites that are visited (in case you need to manually block any that are problematic), and challenges to the bandwidth.
***
Not only does Meraki Go give you business-grade WiFi, but it is also extremely easy to set up – most often, in less than 10 minutes – even if you're not an IT expert. You can also manage your network via the mobile app or web portal, so troubleshooting can be done remotely without any need to disturb your guests. And with no required subscriptions or licensing fees, you can stay on budget and control your costs.
At Meraki Go, we're here to be a partner in the success of your small business and help you grow.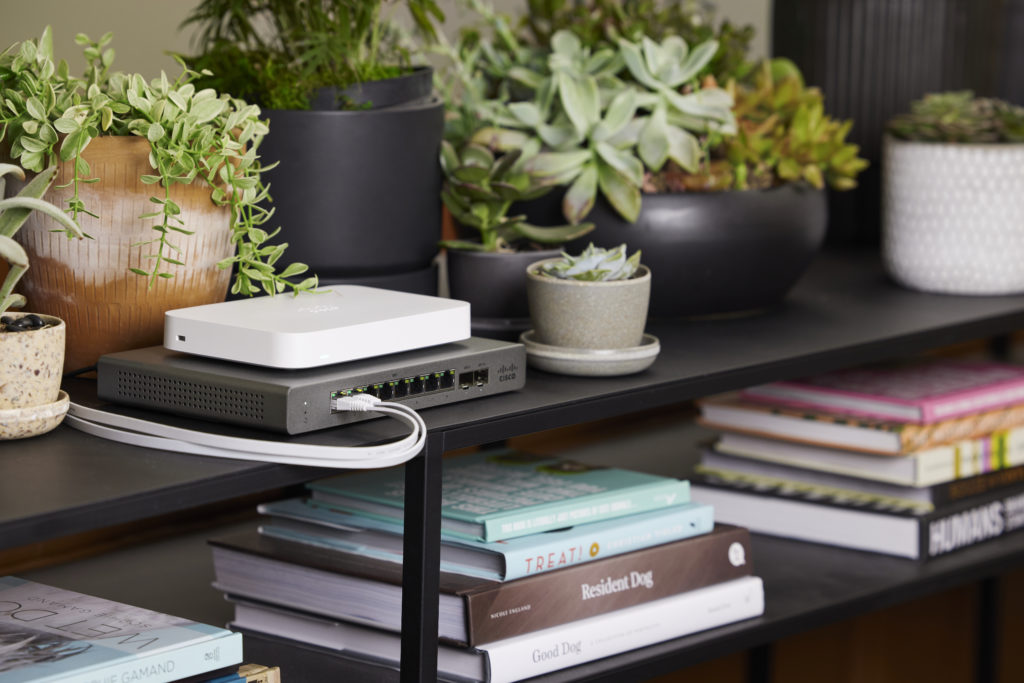 ---
SOURCES:
Airbnb consumer survey 2020
Business Wire
Deloitte
Expedia
Floorspace
Forbes
Global Vacation Rental Market 2023-2027
Hospitable
Hospitality Net
Hotel Investment Services survey 2019
HotelManagement.net
Lodgify
Lodging Technology Study 2023
Samsung
StayFi