It's hard to overstate the importance of sustainability today. After all, we now understand how much it helps with what we see happening in the world – from extreme weather to water shortages to pollution and more.
However, preserving and protecting our planet might not always be the biggest motivator for businesses to go green. Sustainability also offers many benefits. It can reduce costs, attract and retain employees, improve your business' reputation, and increase customer loyalty.
Most companies want to weave some sort of sustainability strategy into their business operations. According to a survey from MIT's Sloan School of Management, 90% of executives believe sustainability is important. However, only 60% of organizations currently have sustainability strategies in place.
So how should you begin? Crafting a plan may seem daunting, especially for a small business, but it doesn't need to be difficult. Below we share the 7 basic steps to creating your own sustainability strategy.
Step 1 Learn about sustainability
Your team may have varying degrees of knowledge about sustainability, so it's important for everyone to learn exactly what it means and how it relates to your business. The Environmental Protection Agency is a great place to start on your journey. In addition, there are 7 federal environmental laws that are important for any business to know – from the Clean Air Act and Clean Water Act to the National Environmental Policy Act.
It's also important to educate yourself on global issues relating to sustainability. Research climate change, energy crises, and the damage being done to so many ecosystems today. The United Nations has 17 Sustainable Development Goals (SDGs), which can help you craft your own.
In addition, environmental issues at the local level are just as important, if not more, to any sustainability plan. For example, if your business is based in the western half of the United States, water conservation may be of greater significance and become a priority in your strategy.
Additional areas where a business can be more sustainable include:
Reducing waste
Preventing pollution
Conserving energy
Shifting to renewable energy sources
Reducing carbon emissions, including through green web hosting
Using recycled and biodegradable packaging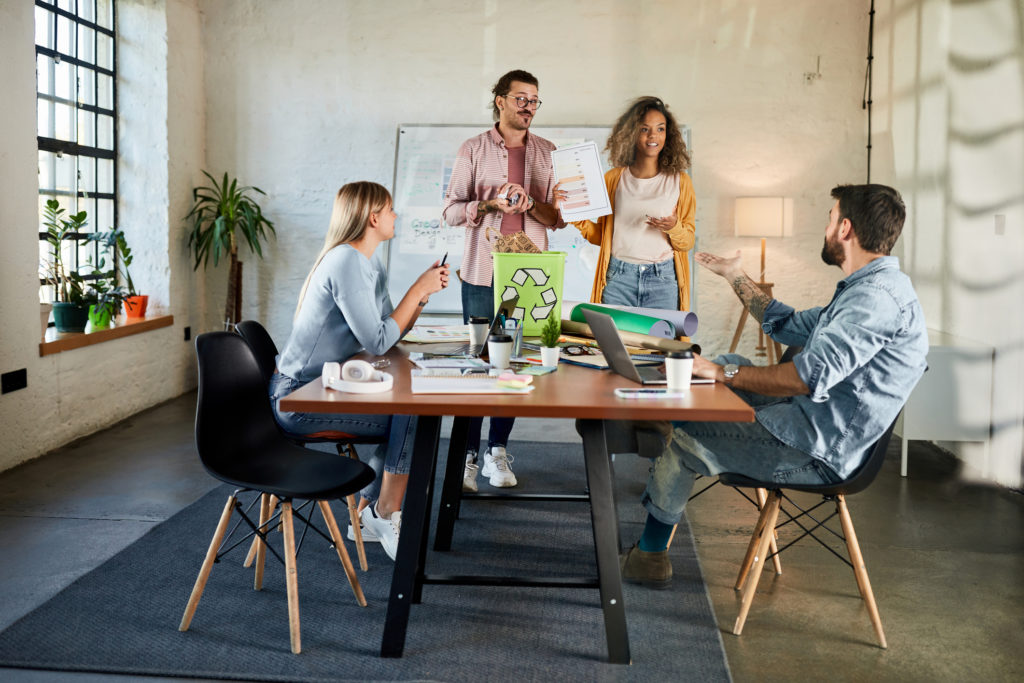 Step 2 Form a Green Team
While everyone on your team should be informed and involved, it's important to select a Green Team that's responsible for establishing a culture of sustainability at your business. Your Green Team should be passionate and ready to track progress on any changes that are instituted, work through challenges, and identify ongoing opportunities.
Step 3 Assess areas that need improvement
In order to discover what can be improved, you must first take a hard look at your business operations today. Here are some valuable questions to ask in order to prompt change:
Energy How much energy does your business use? What is the source of that energy?
Water How much water does your business use? What is the source of that water?
Waste How much waste does your business produce? Can it be reduced and/or recycled?
Products and packaging Are your products and packaging made with sustainably-sourced and/or eco-friendly materials?
Supply chain Do you use vendors and suppliers who are environmentally responsible? Are you sourcing products as close to your business as possible in order to reduce carbon emissions?
Buildings Can your business improve energy efficiency through changes in lighting, insulation, and heating/cooling? Can you clean with eco-friendly products?
Transportation Can your business improve your methods of distribution? Can you reduce employee commutes and travel? If not, can you offset those emissions?
Step 4 Write a green mission statement
Once you've evaluated your business operations, your next step is to craft a green mission statement. A green mission statement is simply a brief summary of your company's sustainability values and goals. The statement will be your foundation and an ongoing reference for your team.
Step 5 Create an action plan
Only 60% of businesses currently have sustainability strategies in place

SOURCE: MIT
Here's where the rubber meets the road. You've evaluated your business operations and written your mission statement – now you need to create a targeted action plan. Detail the changes you want to make in each area along with metrics that allow your team to track the progress. Make sure your goals are specific and measurable. They should also be ambitious yet attainable within a certain time frame. Finally, prioritize your projects by their impact, effort, and cost (if any).
Step 6 Implementation
Once you have an action plan, you need to make sure you have support from the entire organization for the changes. Communicate the goals of the sustainability program to all employees, including any policy changes and plans for certification. In addition, identify and offer any needed training.
Further, take the opportunity to communicate your sustainability efforts to your customers as well. Here are just a few of the positive impacts of embracing sustainability and including it in your marketing:
81% of global consumers feel strongly that companies should help improve the environment (Nielsen)
79% of consumers are changing their purchase preferences based on factors like environmental impact (Capgemini Research Institute)
77% of retail businesses indicate that sustainability has led to increases in customer loyalty (Capgemini)
Step 7 Review performance
Because sustainability strategies have specific and measurable goals, you will eventually analyze the success of your changes. This doesn't need to be difficult. Even comparing a past utility bill with a new one, for example, can be a KPI of your business' progress.
At this stage, it's also important to gather feedback from the team. Are managers or employees having any challenges with the changes? This is the time to review what went well, what could be improved, and a discussion of any new initiatives your business may be ready to start.
***
Creating a sustainability strategy is an incredible opportunity for a business. To inspire ideas, we've discussed 5 ways to make your business more sustainable on the blog along with the many benefits that come with it. We've also explored green web hosting to reduce carbon emissions associated with your website. And Meraki Go can be your partner in hybrid work – our Router Firewall Plus offers both client and site-to-site VPN – which is yet another way to weave sustainability into your business. As always, we're here to help you grow.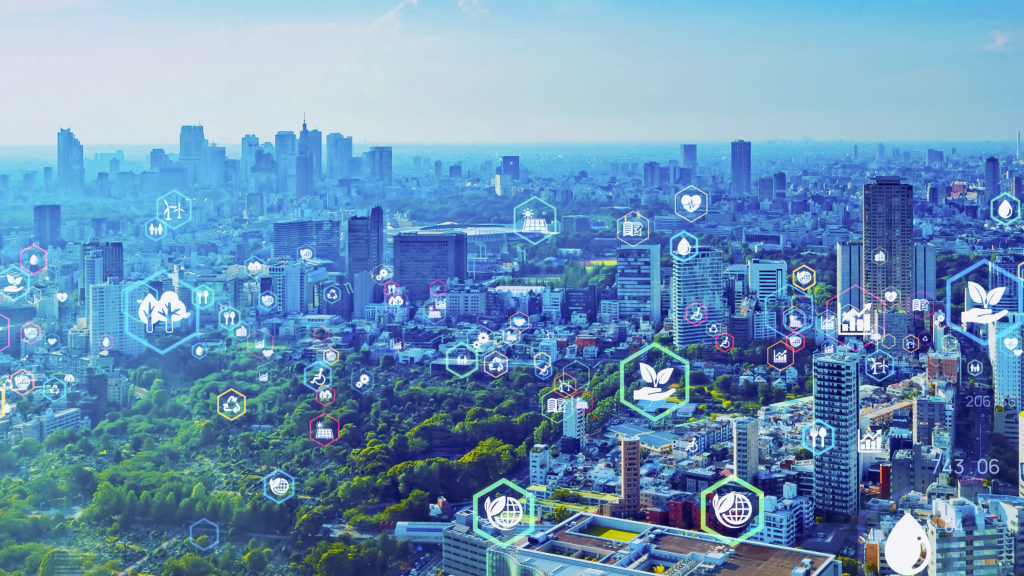 ---
SOURCES:
Cisco
Constellation Energy
Environmental Defense Fund
Forbes
Green Biz
Green Business Bureau
Library of Congress
MIT Sloan School of Management
United Nations
University of Kansas
U. S. Department of Health and Human Services
U. S. Environmental Protection Agency
World Economic Forum