With the added challenges from the pandemic, which shifted even more of our lives online, the importance of digital marketing has only increased for small businesses. Forbes conducted a survey in 2020 – at the beginning of the pandemic – and found that 60% of small business owners acknowledged they needed to develop an even stronger online strategy.
We've created a three-part series to show how to reach customers with your website, social media, and email communications along with resources to put together a powerful online presence. In the first part of this series, we looked at why you need a blog on your website. Now we'll look at many of the reasons that social media is so important and how to use it to better target your audience.
Why should my business use social media?
Everyone's on social media…a lot

According to Statista, which tracks and reports on all aspects of digital marketing, two-thirds of the global population are now online. This translates to nearly 5 billion people with 600,000 new users added every day. Americans are among the most active, spending nearly 8 hours every day on the internet. Of this time, nearly 2.5 hours of that are spent on social media. And that number is only growing.
A 2021 report from the Pew Research Center revealed that 72% of Americans use social media
A 2021 report from the Pew Research Center revealed that 72% of Americans use social media. Here are the monthly active users (MAUs) on five of the most popular platforms:

Facebook 2.9 billion worldwide, 180 million in the U.S.
YouTube 2.6 billion worldwide, 240 million in the U.S.
Instagram 1 billion worldwide, 170 million in the U.S.
LinkedIn 645 million worldwide, 67 million in the U.S.
Twitter 206 million worldwide, 77 million in the U.S.
You can reach your target audience

Your website can reach a lot of people, but social media allows you to really find and speak to your ideal audience. It's important to understand that each social media platform has its own identity based on who uses that platform the most.

You may be surprised to learn who is most active on the various platforms and which ones are the most popular. For instance, in spite of all its frustrations and controversies, Facebook remains fairly dominant in social media. People love to joke that it's only for seniors but, as you'll see below, that is far from the truth. There is a reason why so many advertising dollars are spent on Facebook.

However, people tend to forget all about YouTube when discussing social media. It is vastly under-appreciated as a search engine and blows away all the other platforms when it comes to visitors. Per Hootsuite, the site gets 14.3 billion visits each month, which is more than Facebook, Instagram, Wikipedia, and Amazon.

The Pew Research Center tracks all aspects of social media and provides invaluable insights for reaching your target audience. The following charts break down the percentage of people in the United States who use the various platforms.

By gender:




By age group: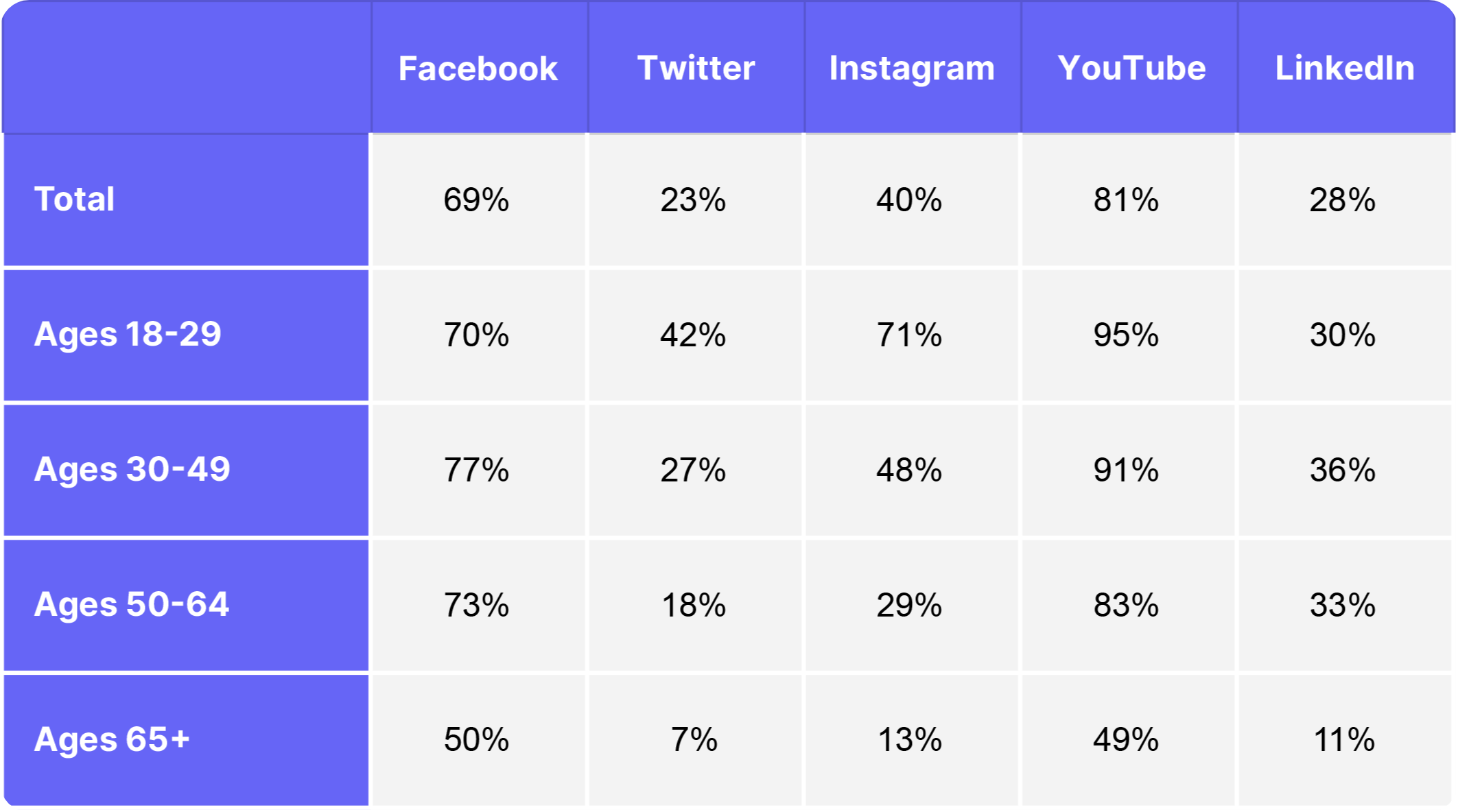 By education level: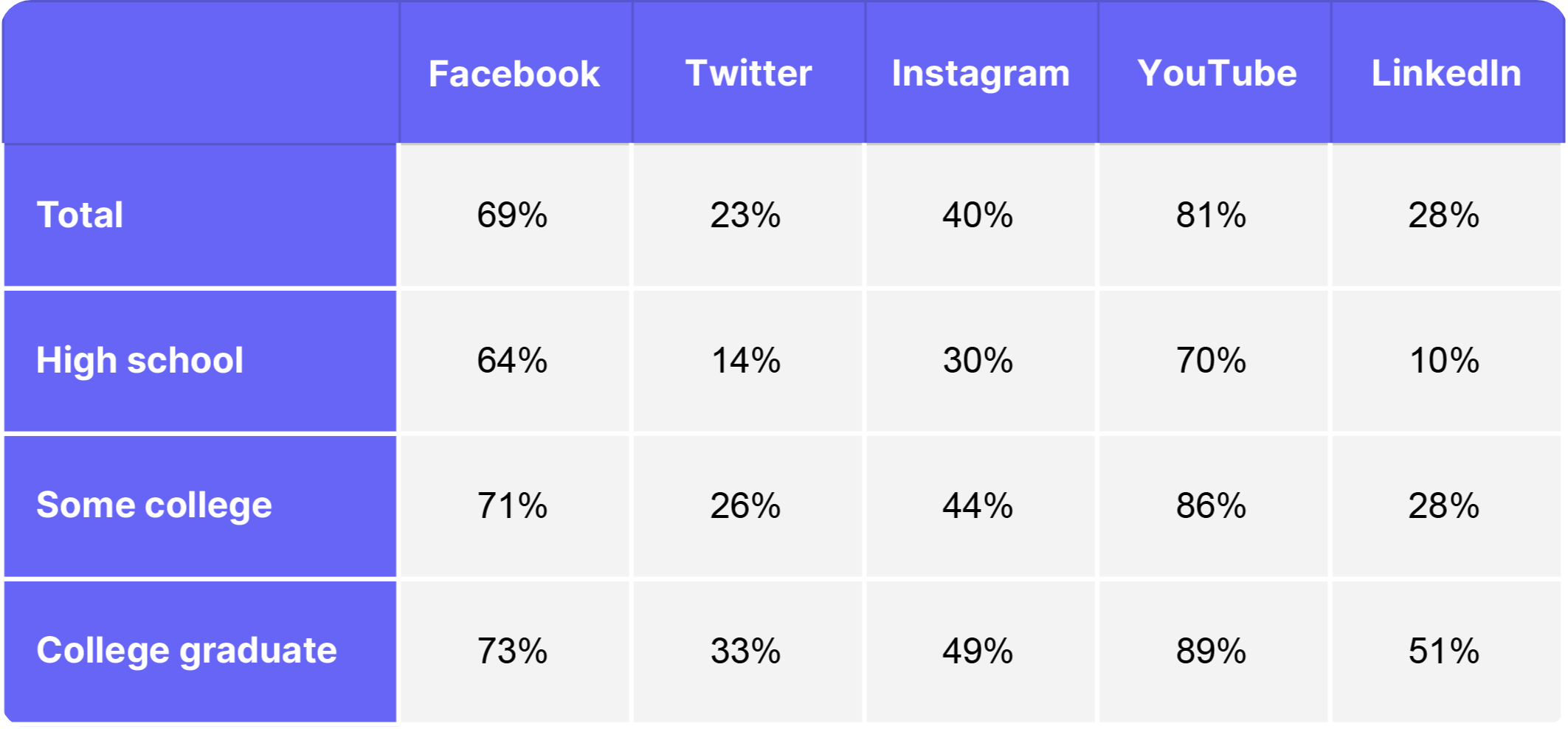 By location: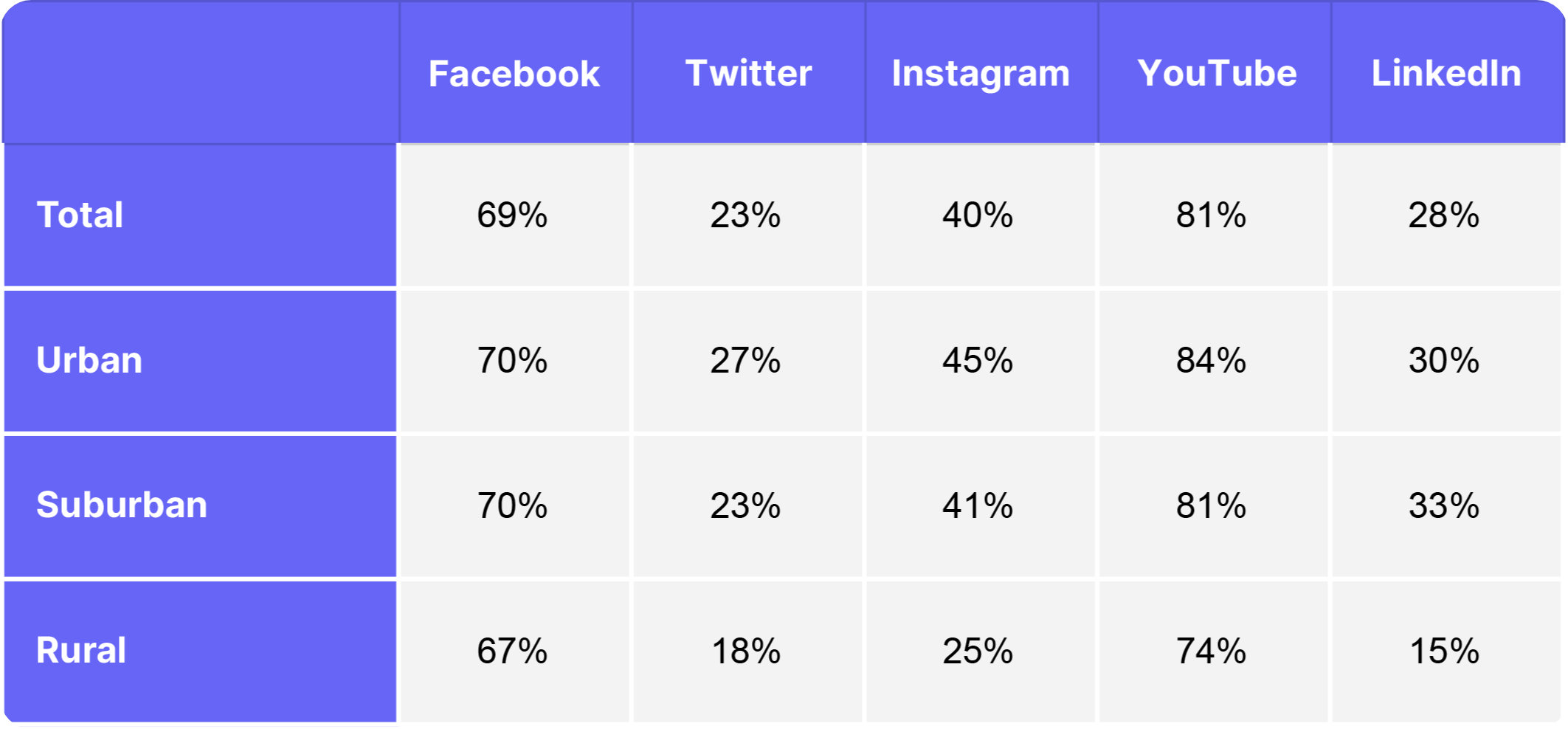 Brand awareness

You never stop educating people about your brand. Consider that Coca-Cola spends approximately $4 billion a year on advertising even though it's one of the best known products in the world. So whether you're welcoming a customer for the first time or continuing to build relationships, social media is an invaluable tool. According to Sprout Social, 55% of customers now learn about brands on social media. However, that number increases even more the younger the customer gets. 61% of millennials and 78% of Gen Z are first introduced to products and services on social media.
55% of customers now learn about brands on social media
Your website can provide the foundation of your brand, but social media allows you to really tell its ongoing story. You can share all your news, events, blogs, and opinions with an interested audience. It's also the ultimate testing ground for what works and what doesn't. Once upon a time brands used focus groups to test their marketing. Today smart companies turn to their social media audience. This not only saves your business money, it gives you a quick and genuine response.
As we advised with your blog content, what you share on social media should be authentic, informative, and engaging. In addition, it's an opportunity to really set the tone of your brand. Developing a distinct voice is more important than ever. Your content can show if you're serious, snarky, funny, cool, or inspirational.
And one of the great joys of social media is that it allows content to be shared widely and easily. Further your reach by using hashtags to enter relevant conversations. This can benefit your website as well, especially when you drive traffic back to it.
Build relationships with your customers
78% of consumers will make a purchase from a company

after a positive experience with them on social media
Not only do your customers get to know you on social media, but you can get to know them as well. Social media gives you the opportunity to build relationships and it's an additional source of customer service. Consumers love to engage with brands online, and 78% of them will make a purchase from a company after having a positive experience with them on social media.
On this note, it's important to engage with people who mention or share your content, especially if they could be considered an influencer within their own audience. As always, you should remain authentic – never approach someone like a salesperson. Instead take every opportunity to establish a real relationship with your customers. The goal is to get them to interact with you in a number of ways, whether it's liking a post, following your page, or sharing your content.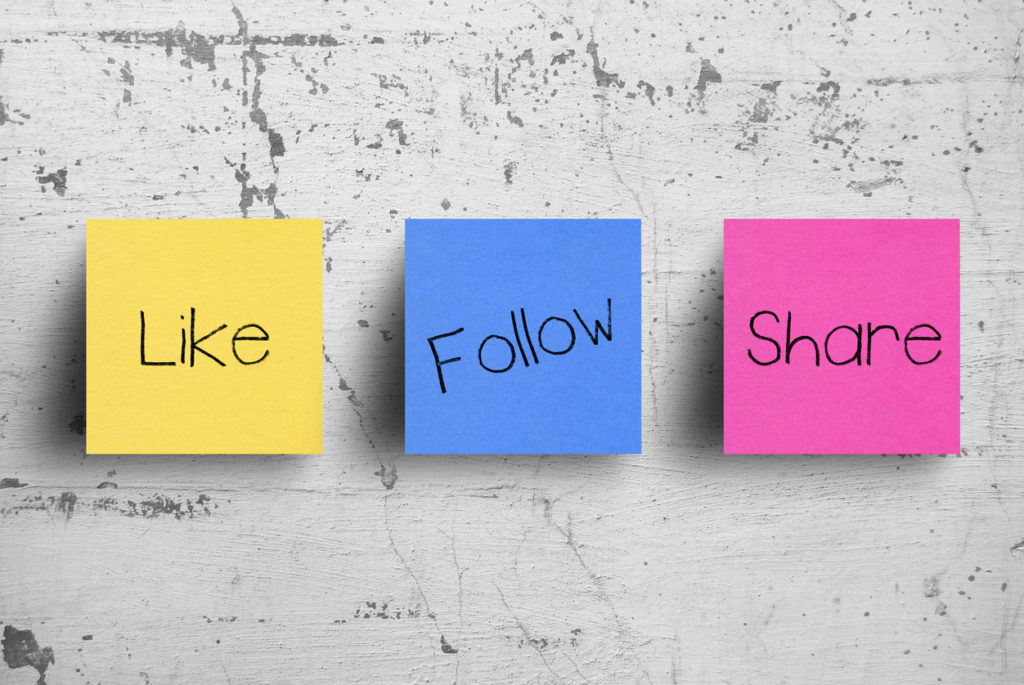 Social media tips
Consistency is everything
This is true of all aspects of digital marketing. On social media, consistency should be seen in several ways. For one, your handle – such as @companyname – should ideally be the same on every single platform. In other words, if you are @companyname on Facebook, you should also be @companyname on Twitter, and so on. If someone else has claimed your ideal handle on a given platform, there might be a way to negotiate the handle your way. This is especially true if your brand has a copyright, you've secured the handle on other platforms, and the current owner has left the account dormant for some time.
Additionally, your profile pictures, cover images, and descriptions about your business should be the same across the platforms. You are trying to create the same experience no matter where a customer "enters" your brand's ecosystem. In an often confusing marketplace, it also helps visitors confirm that the page is indeed yours.
Tools and analytics
If you're using a tool to publish your social media – like Buffer, Hootsuite, or Sprout Social – you will get great analytics from those platforms. By being consistent with the timing of your content, you will start to see when your audience is online and strategize when to schedule your posts. You can even create reports to drill down into what you're doing well or what you can improve. Of course you can also use Google Analytics to track your customer's journey to your website, including through social media.
If you want to make things even easier on yourself, consider a tool like dlvr.it. You connect it to your blog and it automatically shares whatever you publish across your business' social media, whether it's Facebook, Twitter, or Instagram.
And if you want to enhance your engagement further, consider embedding a social media widget on your homepage that can display live content from your business' Twitter or Instagram account.
Resources
Organic social media is free, which is incredible for small businesses. That said, if you're still unsure about the various aspects of creating an editorial calendar, writing content, or designing graphics, there is plenty of help online. Talented freelancers are available through sites like Upwork, Fiverr, and Freelancer.
And of course Meraki Go empowers you and all your work online with secure and reliable business-grade WiFi. We will also continue to share inspiration and information that can be valuable to small businesses.
On that note, the next in Meraki Go's digital marketing series will discuss how to make the most of email marketing.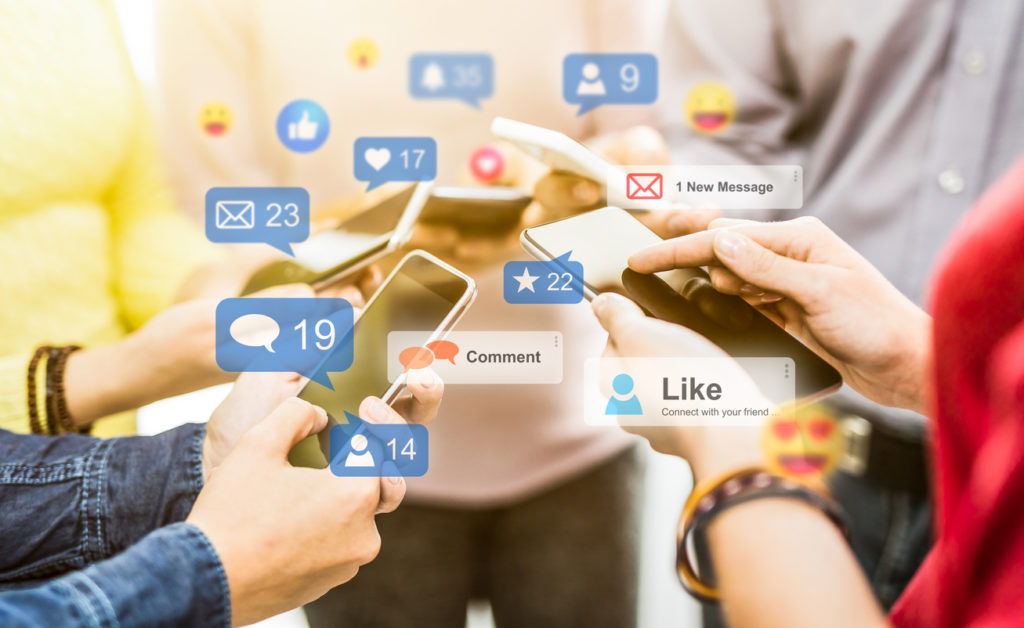 ---
SOURCES:
Adobe
Backlink
CNET
DigitalMarketing.org
Forbes
Google
Hootsuite
LinkedIn
Pew Research Center
Small Business Administration
Small Business Trends
Sprout Social
Statista
U. S. Census Bureau