Digital marketing is a godsend to small business owners, offering the ability to increase brand awareness to thousands of people while still being accessible and affordable. Though there seem to be new channels appearing every day – hello, metaverse – one should never underestimate the strength of email marketing. There are reasons that Forbes promised it's "still the most powerful tool to take your business to the next level."
90% of Americans over the age of 15 are using email
We've created a three-part series on the Meraki Go blog to help small businesses build a robust online presence. In the first part of the series, we looked at the many benefits of a blog on your website. Then, in the second entry, we showed how social media can help you target your audience. In our third and final feature, we share 5 reasons why email is such an effective marketing tool.
Why should my business use email marketing?
Email is used worldwide

According to a 2020 technology marketing report, 4 billion people – half the global population – use email. Not surprisingly, the pandemic sparked even more email activity, so that number is projected to jump to 4.5 billion by the end of 2024. If we narrow our focus to the United States, 90% of Americans over the age of 15 use email.

There's a reason. Email is central to the way we communicate today. We have both business and personal accounts. Email is also integral to many of the things we do. Beyond correspondence, consider how many activities require an email address to set up an account or log in, from social media to banking to online purchases.


Ability to go directly to your customer

Americans are among the most active online. We spend nearly 8 hours every day on the internet, and up to 5 of those hours are spent reading email. Don't assume this only applies to Baby Boomers either. More than half of Americans check their email before breakfast and then we check again and again throughout the day. In fact, the average person checks their email 15 times a day. Further, according to a marketing research study from NAPCO Media, 62% of millennials and 64% of Gen Z said email was their preferred form of communication from brands. Why? Because it feels more personal. Everyone has an inbox, so email marketing allows you to go directly to your customer.


Opportunities for customized content

One of the biggest advantages of email marketing over any other digital channel is the ability to personalize and customize the content. In addition to weaving your customers' names into emails, you can divide your list into different groups with similar characteristics or interests. With segmentation, you're able to deliver more targeted content. This customization increases the relevancy and overall value of your communications. Emails help you start strong relationships with prospects and build upon existing relationships with customers.

Of course customization does not prevent you from sharing some of the same content with everyone. Emails are a wonderful way to make the most of your blogs – not to mention increasing your website traffic – as well as the opportunity to build excitement by sharing your business' news and events.


Extensive analytics

It's really hard to beat the analytics that come from email marketing. If you compare with magazine or newspaper advertising, for example, you never really know how many people truly see your ad let alone read it. With email, you can learn about your customers and your content. You can see who opens the email, where they open it, when they open it, and how many times they open it. You can also see what content they respond the most by diving into the email's click-through rates.

In addition to these analytics, which can be viewed on a dashboard, you can create reports to study what you're doing well or what you can improve. Of course you can also use Google Analytics to track your customer's journey to your website, which will likely include referrals from your emails.

There are several empowering email platforms available to small businesses today, from Constant Contact to Mailchimp. Each allows you to create branded templates for a range of communications and access extensive analytics.


High ROI

Email is widely considered the least sexy of the various marketing methods, especially when compared with social media and influencer marketing. However, this is ridiculous. You know what's sexy? High ROI.

Email marketing still delivers the highest ROI of all marketing channels. In fact, it's not even a contest. An eMarketer study found that the median email marketing ROI is 122%, which is 4 times higher than any other digital marketing channel. This translates to approximately $40 back for every dollar you spend. Boom.

Email marketing tips
99% of consumers check their email every day and the average person checks email 15 times a day
Content is king
In 2019, Adobe studied what marketers do and don't do well with email. Not surprisingly, research proved that it's the quality of the content that's most important and that includes the subject lines. Overall, emails should be:
Well-written
Not too "wordy"
Relevant to the recipient
It may seem simple, but research shows one of the biggest complaints people have is receiving too many emails that are not relevant to them.
In addition, if emails are personalized, it's important to double-check the spelling of names in your list. Adobe discovered that a whopping 15% of the emails they studied had the recipients' names spelled wrong.
Consistency is queen
Keep in mind it's not the frequency of your emails that matters – often less is more – but consistency is key. If your customers know to expect one email a week, or once a month, stay with that schedule until you need to do more. Everyone's inboxes are so full, and promotional emails are often thrown into their own folder, so consistency helps your customers find your communications. Of course the timing should also be relevant to the subject matter, such as if the email is tied to any sales offers or events.
Finally, the look and feel of your emails should be consistent with your brand and mirror your other online platforms.
Resources
Though today's email tools are very user-friendly, you may still not know how to begin. If you're unsure about the various aspects of creating an editorial calendar, writing content, or designing graphics, there is plenty of help online. Constant Contact and Mailchimp, for example, now offer their own consulting services. And additional talented freelancers are available through sites like Upwork, Fiverr, and Freelancer.
And of course Meraki Go empowers you and all your work online with secure and reliable business-grade WiFi. We will also continue to share inspiration and information that can be valuable to small business owners. We're here to help you grow.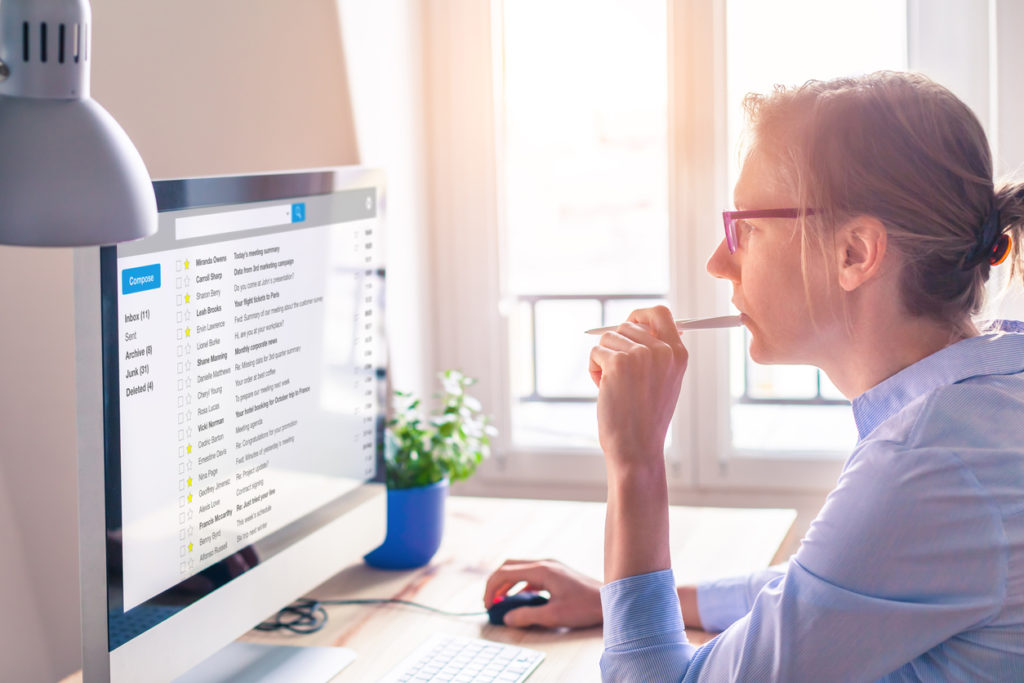 ---
SOURCES:
Adobe
Backlink
Bluecore
Business News Daily
CNET
Constant Contact
DigitalMarketing.org
eMarketer
Forbes
Google
Hootsuite
Hubspot
LinkedIn
NAPCO Media
Pew Research Center
Sleep Advisor
Small Business Administration
Small Business Trends
Sprout Social
Statista
U. S. Census Bureau